New and Improved K9 Immunity™
K-9 Immunity

Plus™
---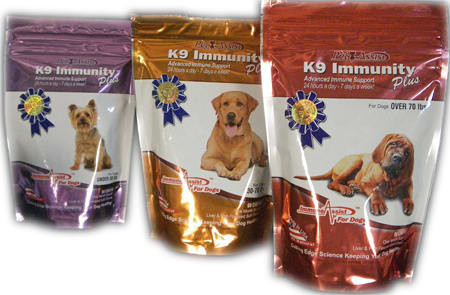 With the incredible success of K9 Immunity™ capsules, many of our veterinary clients asked if we could make an easier to administer all-in-one formula that contained all the active ingredients for helping dogs that were facing serious health challenges. These enquiries lead to the development of K9 Immunity Plus™, a chewable wafer product containing all the immune-active polysaccharides from K9 Immunity™ the Immuno-proteins from K9 Transfer Factor™, and the Omega 3 fatty acids from K9 Omega™ in an easy to use form. K9 Immunity Plus™ is made from the same pharmaceutical grade human quality raw materials, and is 100% Made in America with no imported ingredients. These are highly flavored chewable wafers, like a piece of sausage that most dogs will take with no problem.
K9 Immunity Plus™ is packaged in three sizes, according to the dog's weight. It comes packaged for dog's under 30 lbs, from 31-70 pounds, and for dogs over 70 pounds. By making K9 Immunity Plus™ in an all-in-one format, it is also cheaper to use than the three products purchased separately.
Same Active Ingredients – Same Great Effectiveness – All New Easier to Administer Form. K9 Immunity Plus™

Start your dog today!